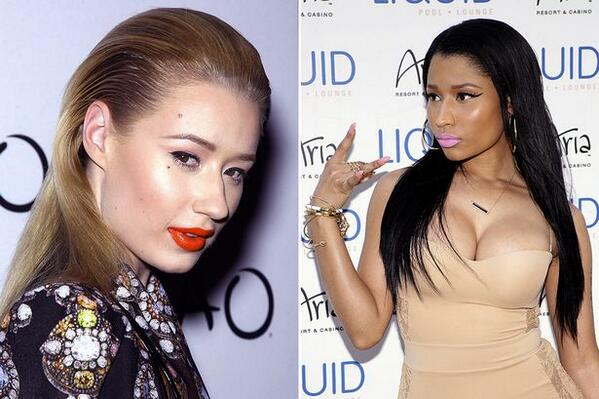 Oh what a shady web we weave.
Last night's BET Awards was probably the shadiest one we've seen in years. Hip Hop superstar, Nicki Minaj won her 5th Best Female Hip Hop Artist BET Award for the 5th year in a row.
During her acceptance speech, which had a strange resemblance to a Kanye West style rant, Nicki took the opportunity to shade fellow female rapper, Iggy Azelea.
The beef between the two gained public attention after a Forbes magazine article originally titled Hip Hop Is Run By A Blonde Australian White Woman was published about Iggy Azelea and her rise in mainstream hip hop.
Nicki Minaj, in an 3 minute long speech, took a moment to publicly shade Iggy Azelea on the nationally televised awards show.
Nicki on her new album:
"But my point is, what I want the world to know about Nicki Minaj is, that when you hear Nicki Minaj spit, Nicki Minaj wrote it. No, no, no shade. No, no, no shade."
Nicki on her relationship with Lil Wayne:
"I used to sit in the studio with Lil Wayne and I would literally take sometimes three, four days to write a verse. And he was like, 'No, you can't be taking days to write no verse, you gotta write your verse right here in the studio.'And that's why I love him 'til this day."
Nicki on getting credit:
"… I'm still one of the only emcees that's out here spitting metaphors and making you think. And I really don't even care if I get my credit or if I don't."
Nicki on BET:
"I hope and pray that BET continues to honor authenticity."
Check out Nicki Minaj's full acceptance speech below:
Iggy Azelea has yet to respond.
For more on Nicki Minaj's acceptance speech, head over to E! Online.
Urbanites, d0 you think Nicki Minaj shaded Iggy Azalea or are Nicki fans reading too much into it? Do you think this will be the end of the shade or is it just getting started? Share your thoughts in the comments section below.