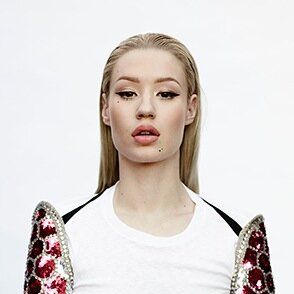 Tsk tsk tsk…Ms. Azalea definitely appears to be suffering from 'foot in mouth' syndrome as of late. Hip Hop's Unlikely New Star is once again making headlines for her uncensored (and un-retractable) twitter rants- this week setting targets on Nicki Minaj stans (or Barbz) across the twitter-verse.
Iggy, who has jumped notches up the fame ladder with 2 top 5 singles, Fancy feat. CXXC and Problems with Ariana Grande, is fresh off a mini scandal calling her into question and labeling her a 'racist.'
Images have surfaced in recent weeks of Iggy's 2010-era Twitter feed, which showcase a series of tweets that included racial slurs and insults towards several minority groups.
Check out the tweets in question below (photos courtesy of Piggy Azalea Tumblr):
Not one to mince words, Azalea has responded to the controversial tweets, saying
"Remember there was a time when my twitter was just for my friends and family to see. Just like yours probably is now. I feel like what you guys are doing is really unfair. That's my opinion."
Fast forward to this week and Iggy's Twitter rants are again a topic of conversation. Fresh off topping the charts with her single Fancy [which has landed the number one spot on the Billboard Hot 100 chart], Iggy, who also received a quasi-acknowledgement/ congratulations from Nicki Minaj on her accomplishment, received a barrage of negative comments from Nicki's Barbz.
She responded in what apparently is the only way she knows how, and slammed her haters in a series of posts on Twitter:
*sips tea and sits back* Well then, tell us how you really feel Iggy.
For more on this scoop, head over to Beauty World News.
Urbanites, do you believe the hype? Should Iggy stop telling twitter how she feels? Let us know what you think in the comments section below.