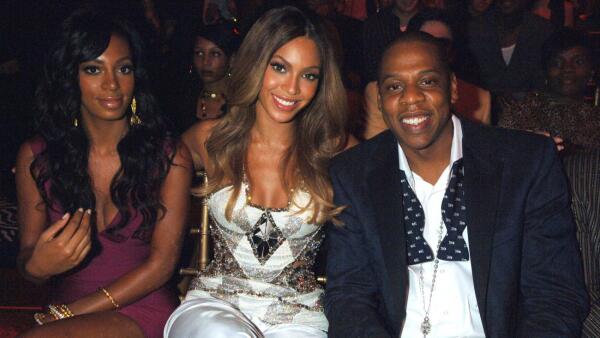 #WhatJAYZ SAIDTOSOLANGE: The Story Continues- Solo, Jay & Bey Issue Joint Statement, Say they've 'worked through' private issues that resulted in infamous elevator fight 
Might this epic battle finally be coming to an end? That's right readers, the story that has birthed the hashtag that keeps on giving may finally be put to rest after the Carter-Knowles clan released a statement on Thursday addressing the unforgettable (even if we tried) elevator brawl caught on surveillance video.
As I'm sure everyone and their mama knows by now, the internet went into virtual overdrive when video footage of Solange's attempt to open a full can-o-whup-ass on Jay-Z surfaced last week and launched a massive viral fury that included memes, video voice-overs and jokes alike (TIML staff has taken the liberty of putting together a compilation of the top memes and remix for your viewing pleasure). With tons of rumors circulating the web, from a faux feud between Solange and former bestie Rachel Roy to Solo allegedly name-dropping her famous brother-in- law at the Met Gala, the internet has been ablaze with speculation trying to answer the now infamous questions #WHATJAYZSAIDTOSOLANGE.
The trio has now made attempts to put this viral sensation to rest by issuing a statement to the Associated Press stating, in short, that they 'have worked through their differences and moved on…' The statement goes on to say:
"The reports of Solange being intoxicated or displaying erratic behavior throughout that evening are simply false," the statement continued. "At the end of the day families have problems and we're no different. We love each other and above all we are family. We've put this behind us and hope everyone else will do the same."
To read the full statement, head over to the Huffington Post.
Urbanites, what is your take on this epic battle caught on camera? Do you believe the hype or do you think this is all just good PR? Tell us what you think in the comments section below.